What does Software Engineering poster presentation include?
The Software Engineering poster presentation illustrates the major topics in computer science and software engineering, including Mathematics, System, Programming, Networks, Data Science, Applications and Artificial Intelligence. The poster is in JPG and PDF format. You can print it to put on your desk, or use as wall décor in study room, college dorm room, classroom, public library, and computer lab.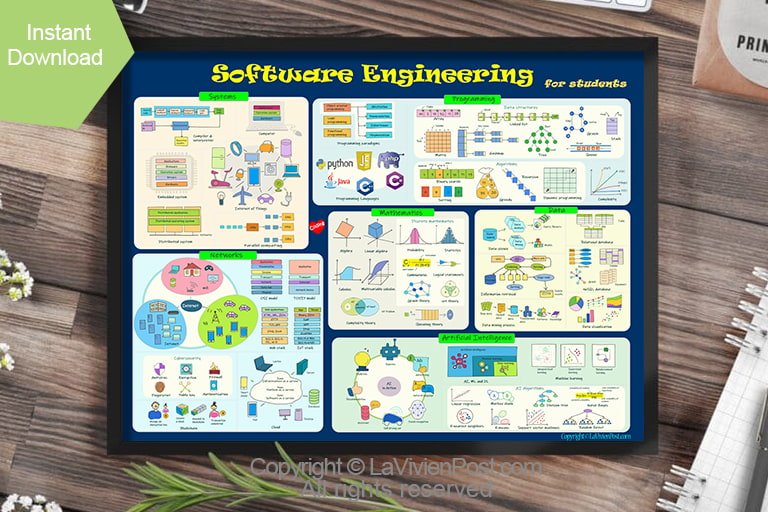 Table of Content

Software Engineering Poster Descriptions
Mathematics: Algebra, Linear algebra, Calculus, Multivariable calculus, Discrete machines, Probability, Statistics, Combinatorics, Logical statements, Graph theory, Set theory, NP problem, Complexity theory, Queue theory etc.
System: Computer, Complier and Interpreter, Embedded system, Internet of things (IOT), Distributed system, parallel computing.
Programming: Programming paradigm, Object oriented programming (OOP), Logic programming, Functional programming, Programming languages, Python, JavaScript, PHP, Java, C++, C#, Data Structures, Array, Linked list, Tree, Graph, Matrix, HashMap, Stack, Queue, Algorithms, Binary search, Sorting, Greedy, Recursion, Dynamic programming, Complexity.
Networks: Internet, Intranet, Wifi, 5G, OSI model, TCP/IP model, Protocol web stack, IoT stack, cybersecurity, Firewall, Authentication, Antivirus, Fingerprint, Public key, Encryption, Blockchain, Cloud, Infrastructure as a Service (IaaS), Platform as a Service (PaaS), Software as a Service (SaaS).
Data: Data science, Information retrievals, relational database, Table, NoSQL database, Key-value, Column, Graph, Document, Data visualization, Data mining process.
Artificial Intelligence: AI applications, Facial recognition, Speech recognition, Self-driving car, Recommendation, Predict, Robotics, Natural language, Advertising, Machine learning, Deep learning, Neural networks, Supervised learning, Unsupervised learning, Reinforcement learning, Linear regression, Naive Bayers, Markov chain, K-nearest neighbors, K means, Decision tree, Random forest.


Software Engineering Poster Photo Gallery

Software Engineering Poster File Specifications
Digital download.
One zip file, including high resolution
JPG
and
PDF
files at 300 dpi.
printable sizes:
10'x8' (3000×2400 pixels)
24'x18'(7200×5400 pixels)

Purchase
You can pay with our secured payment methods: PayPal or credit card. The currency is USD.

Download Instruction
You will be able to download immediately after purchase. The email will be sent to you with the download link. Click the link and save the file to your computer. Double click the zip file, the file will automatically be decompressed.

Print Instruction
1.
Where to print
– You can print at home using a high quality printer.
– Take to your local print shop (Walgreens, Costco, Kinkos, Staples, Office Depot, Target etc)
– Upload to a printing service online and have them delivered to your door (
Shutterfly
,
Vistaprint
).
2.
Type of paper
We recommend heavyweight matte card stock paper. Semi-gloss or luster photo paper are great choice too.

Terms of Use
All files are for personal use only. They cannot be used commercially or be resold or redistributed for any purpose.
The print is original created and copyrighted by © LaVivienPost.com. All rights reserved.

Returns & exchanges
Due to the digital nature of the item, we cannot accept returns, refunds or cancellations. However we accept change request. If you need a size not included, change the font or color, add customized texts or images, we will make the changes free of charge. Your custom orders should be sent within 2 business days (usually the same day of purchase).
For more complex changes, an additional fee may apply. Feel free to message us for more details.

Software Engineering Poster Declaimer
This print is a DIGITAL DOWNLOAD. No physical item will be shipped !
The images will look the same as they do on the presentation. However colors may vary slightly depending on the color settings of your computer monitor or the printer.

Free Download
Sign up here to get FREE download of web version (1920×1440 pixels). It also includes one print version (10×8 inches) JPG file as bonus.


Customers who viewed this item also viewed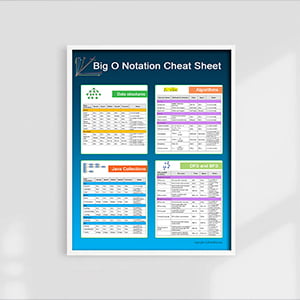 Big O Notation Cheat Sheet Poster